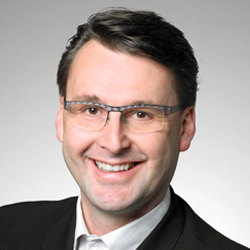 Bart Becker
Vice President of Facilities
University of Calgary
-PREVIOUS SPEAKER PAGE-
Bart Becker is the Vice President (Facilities) at the University of Calgary and oversees the Facilities portfolio which includes the overall operation and maintenance of four campuses and over 10.5 million square feet of space. The Facilities portfolio is responsible for the operation of its central utilities plant and cogeneration facility; all planning, design, construction and project management of university infrastructure and land development; real estate; and joint oversight of the university's Office of Sustainability. While at the University of Calgary, Bart has focused on strengthening the culture of the Facilities team and creating a more professional, engaged and empowered staff. Since Bart's time at the University of Calgary, the university has seen significant positive impacts as a result of these organizational changes and currently has over $700 million in planned design and construction activity.
Bart joined the University of Calgary with 27 years of experience in post-secondary education and engineering consulting sectors including buildings, industrial, municipal infrastructure, and pharmaceuticals. He served as the Associate Vice President, Facilities and Operations for 6 years at the University of Alberta, and prior to that, 14 years at Stantec where he held several positions increasing in scope and accountability, culminating in his final position as Operations Manager of their head office and the Project Director for the City of Edmonton's $650 million South LRT Extension Project.
Bart is a member of the Association of Professional Engineers and Geoscientists of Alberta (APEGA) and the Society for College and University Planning. He has published papers on project management strategies and risk management planning and has extensive experience serving on the Board of Directors in the Arts, University of Calgary Board of Governors, West Campus Development Trust and other university partnership Boards. Bart has a passion for athletics and has been involved in both the Olympic Games bid creation for Calgary and the execution of a number of international sporting and cultural events.