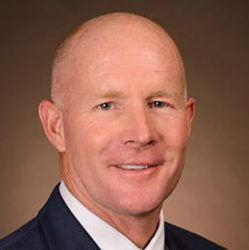 Bruce Nevel
Associate Vice President, Facilities Development and Management
Arizona State University
PREVIOUS SPEAKER PAGE
Bruce Nevel was a featured speaker at HEFF 2019.
Bruce Nevel serves as the Associate Vice President, Facilities Development and Management (FDM) at Arizona State University (ASU). He serves as ASU's Chief Facilities Officer and is responsible for leading the entire facilities organization.
ASU's FDM department is responsible for all of ASU's facilities, infrastructure, grounds, and janitorial requirements and manages design, construction, renovation, maintenance, and repairs at each of ASU's four campuses and additional sites.
Bruce is an engineer who previously worked as a Civil Engineer Corps Officer in the United States Navy. He received a B.S. in electrical engineering from Tufts University and an M.S. in civil engineering from the University of Florida.