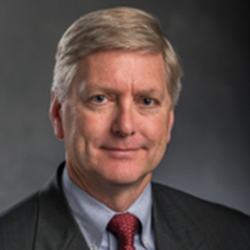 Dan Bollman
VP Infrastructure Planning & Facilities
Michigan State University
PREVIOUS SPEAKER PAGE
Dan Bollman oversees the functions of the Infrastructure Planning and Facilities unit. Bollman, a registered professional engineer with decades of experience in design (and construction-related activities), is the Vice President for Strategic Infrastructure Planning and Facilities (IPF). Prior to joining the IPF unit as AVP, he was director of Planning, Design, and Construction, where he was responsible for all estimating, design, and construction activities on campus related to the construction of new facilities, renovations, maintenance and repair, infrastructure and landscape. The annual construction volume for projects on campus ranges from $100 million to $150 million.
After graduating from Michigan State University with a bachelor's degree in civil engineering, Bollman spent five years managing the construction of major projects with the United States Naval Civil Engineer Corps. He then returned to MSU to work in various capacities within Planning, Design, and Construction before becoming the director.
Bollman holds a master's degree in resource development, is a LEED Accredited Professional, and a Certified Educational Facilities Professional. He is active in the Construction Owners Association of America, Association of Physical Plant Administrators, and the National Society of Professional Engineers.