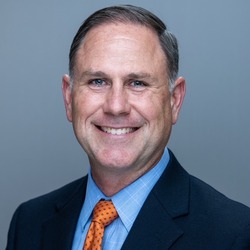 Dan Cook
Executive Director, Campus Construction
UT Austin
Dan Cook is the Executive Director of Campus Construction at the University of Texas at Austin. He serves with a team of professionals in support of all design, construction, project management, project support, contracting, and construction operations, delivering improvements across the main and supported campuses. While primarily focused on the delivery of design and construction services, he also guides his team in planning and developing initiatives that support the university's strategic goals for increased effectiveness in stewardship of resources.
Prior to joining the University of Texas in 2021, he completed a career of service in the U.S. Navy and held positions of command along with other senior executive facilities department head assignments. Highlights of his career include designing and building the newest home for West Coast SEAL teams; support facilities for the Joint Strike Fighter, the transformative recapitalization of the Navy's only boot camp; and operational tours with sailors across the Mediterranean, Pacific, Africa, and Middle East.
He hails from Oklahoma City, Oklahoma and has a Bachelor of Architecture degree from the University of Notre Dame and a Master of Science degree (Construction Engineering and Management) from Purdue University. He has received various awards for performance, including the Legion of Merit and the Bronze Star, along with the Urbahn and Moreell Medals from the Society of American Military Engineers for his distinguished contributions. He is a registered architect in the state of Texas.