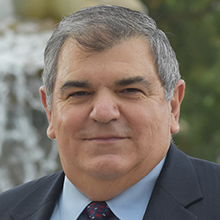 Dave Riker
Associate Vice President for Facilities
University of Texas at San Antonio
PREVIOUS SPEAKER PAGE
Dave Riker was a featured speaker at HEFF 2017. Check out his session here.
—————
As Associate Vice President for Facilities at the University of Texas at San Antonio, Dave Riker is responsible for all aspects of Facilities Maintenance and Operations, Repair, Renovation and Construction for the University. Mr. Riker has more than 30 years of experience in Engineering, Facilities Management, and Construction. He has been with the University of Texas at San Antonio as its Senior Facilities Officer (SFO) for the past eleven years. Previously he served four years as the Facility Manager for Experimental Science Facilities at Los Alamos National Laboratory, New Mexico, after serving as the Los Alamos County, NM, Public Works Director for nine years. Mr. Riker also served fourteen years in the United States Air Force as a Civil Engineering Officer involved in construction and maintenance at various military installations throughout the world. He holds Masters Degrees in Civil Engineering from the University of Colorado and in Systems Management from the University of Southern California, and a Bachelor's Degree in Civil Engineering from New Mexico State University.
Mr. Riker is a Certified Facility Manager (CFM) with the International Facility Management Association (IFMA), and holds a Facility Management Administrator (FMA) designation from the Building Owner's and Manager's Institute (BOMI). Mr. Riker has long been a proponent of achieving excellence in all areas of Facilities Management. As a result of more than ten years of sustained efforts to achieve excellence, the University of Texas at San Antonio was awarded the 2016 APPA Award for Excellence, the highest honor in higher education facilities management.