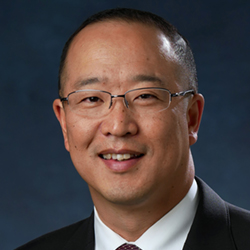 David Kang
Chief Facilities
Officer
UNIVERSITY OF COLORADO BOULDER
PREVIOUS SPEAKER PAGE
David Kang was a featured speaker at HEFF 2019.
David Kang is the Vice Chancellor for Infrastructure and Sustainability and the Chief Facilities Officer at the University of Colorado Boulder, where he manages over 12 million square feet of facilities to support education and research. He is also responsible for overall Campus Sustainability and Resiliency; Real Estate and Environmental, Health, and Safety programs.
Prior to CU Boulder, David was the Director of Project Management at the White House Military Office where he led several multi-million dollar, highly technical, classified facility programs/projects in support of the Continuity of the Presidency, White House Operations, Camp David, and other White House support facilities. He also served as the Director for Shore Energy for the Department of the Navy where he championed a culture of sustainability and led department-wide efforts to increase energy efficiency, increase use of renewable energy and integrate smart energy technologies on Naval installations throughout the world.
David holds a B.S. in Structural Engineering (UC San Diego) and an M.S. in Civil and Environmental Engineering (UC Berkeley) and is a registered Professional Engineer in the state of California and a Certified Energy Manager.