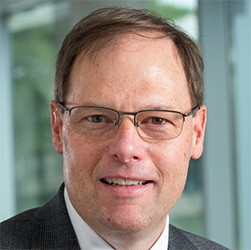 Don Coffelt
Associate Vice President for Facilities Management & Campus Services
Carnegie Mellon University
PREVIOUS SPEAKER PAGE
Don Coffelt was a featured speaker at HEFF 2019. 
Donald Coffelt serves as the Associate Vice President for Facilities Management and Campus Services at Carnegie Mellon University. His 350-member team provides facility services, infrastructure management, utility operations and auxiliary services required to support the university's 150-acre Pittsburgh campus. Reporting to the Vice President for Operations, Coffelt is also responsible for coordinating university-wide sustainability practices.
Coffelt holds a concurrent appointment as an Adjunct Professor in Carnegie Mellon's top-ranked Department of Civil and Environmental Engineering with an expertise in Infrastructure Management. He passionately promotes student and faculty access to university facilities for education and research – "The University as a Lab".
From 1995 to 2003, Coffelt was an executive for a Pittsburgh area facility services and technology firm with nation-wide program management responsibilities. From 1985 through 2013, he served in a variety of leadership assignments across the United States as an officer in the U.S. Coast Guard before completing a 28-year career at the rank of Captain in the U.S. Coast Guard Reserve.
In addition to his doctorate from Carnegie Mellon University, Coffelt is a graduate of the United States Coast Guard Academy in New London, CT and the University of Illinois. He is a Fellow of the American Society of Civil Engineers and licensed as a professional engineer in Alaska, and Pennsylvania. His published works include a graduate-level textbook, Fundamentals of Infrastructure Management. Active in community service, Dr. Coffelt also serves several boards including the Andrew Carnegie Society.