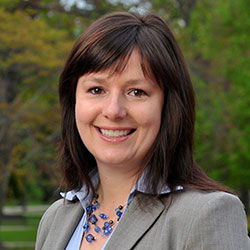 Heather Tonk Christophersen
Director of Maintenance
University of Notre Dame
Previous Speaker Page
Heather Christophersen was a featured speaker at HEFF 2018.
Heather Christophersen currently serves as the director of maintenance at the University of Notre Dame, where she oversees the maintenance operations of 190 campus buildings, comprising just over eleven million gross square feet and a replacement value of $4.8 billion.  She is responsible for the daily repair and maintenance operations as well as the renewal and reinvestment planning activities for campus facilities.  
Heather previously held several roles at Notre Dame including director of sustainability and director of strategic planning, where she led efforts to create and implement strategic plans across the university, including the university's first carbon reduction plan.    
Heather graduated from Notre Dame in 1998 with a BS in chemical engineering and later earned her MBA from Northwestern's Kellogg School of Management. Prior to returning to work at Notre Dame, Heather worked in the chemical industry for over 11 years, for both BP chemicals and later Elevance Renewable Sciences. She served in roles in manufacturing, logistics, asset management and business operations.