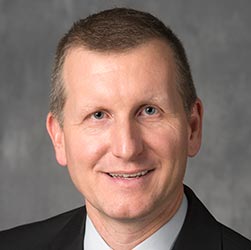 Jay Wasson
Chief Operations Officer, Physical Facilities
Purdue University
PREVIOUS SPEAKER PAGE
Jay Wasson was a featured speaker at HEFF 2019.
As Chief Operations Officer for Physical Facilities at Purdue University, Jay Wasson is responsible for providing executive leadership for the areas of Capital Program Management, Energy and Utilities, Buildings and Grounds, Asset Management, and Master Planning and Sustainability. Wasson sets strategic direction to safely maintain and operate Purdue University's infrastructure and also oversees, manages, and implements the associated multi-million dollar budget. Numerous large capital construction projects are currently underway at the University, one of these projects will create two new residence halls by utilizing an innovative public-private partnership delivery method.
Wasson has been with Purdue University since December 2015, where as a student he previously earned both a Bachelor's of Science and a Master's of Science in Civil Engineering. Wasson is a registered Professional Engineer in Indiana. Prior to joining the Physical Facilities organization, Wasson spent over 20 years at the Indiana Department of Transportation, where he most recently served as Deputy Commissioner of Engineering and Asset Management. Prior to that role, his other positions at the Indiana Department of Transportation included Intelligent Transportation Systems Operations Engineer, Director of the Traffic Management Centers Division that included management of the Hoosier Helper freeway service patrol, and Director of the Research and Development Division.
In addition to his role within the University, Wasson is actively engaged in professional organizations including the Institute of Transportation Engineers and civic activities.