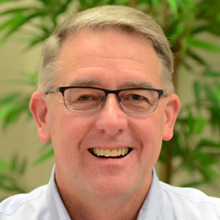 Jim Cowell
Associate Vice President for Facilities
Caltech
Jim Cowell joined Caltech as the Associate Vice President for Facilities in October 2007. The Caltech Campus is comprised of 125 acres and 4.4 million square feet of buildings where he is responsible for campus facilities, utilities, capital improvements, sustainability and facilities services.
Prior to Caltech Jim Cowell was with the Los Angeles Unified School District (LAUSD) from June 2004 to October 2007 where under his leadership the $12 billion new school building program was on track to build 130 new schools throughout the District.
Jim served as a Civil Engineer Corps Officer in the United States Navy for 24 years.
Cowell earned a bachelor's degree from the University of Florida and a master's degree from the Massachusetts Institute of Technology both in civil engineering. He is a registered civil engineer in California.