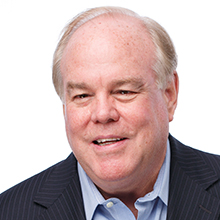 Jim McConnell
Associate Vice President of Facilities Services
University of Chicago
PREVIOUS SPEAKER PAGE
Jim McConnell was a featured speaker at HEFF 2017. Check out his session here.
—————
Jim McConnell, PE, is associate vice president of Facilities Services at The University of Chicago and is the executive who oversees all campus construction, strategic planning, facilities sustainability initiatives, and maintenance and building operations. Jim joined the University in 2016 from Ascent, a Chicago-based capital program management firm, where he served as executive vice president.
Jim offers broad experience in executing major capital programs, and applies strategic vision to the management of the built environment. His career includes 13 years as the senior executive for large, complex construction, repair, and maintenance programs on behalf of the U.S. Navy, the city of Chicago, the state of Qatar, and the Los Angeles Unified School District. (LAUSD).
Prior to Ascent, Jim was the capital program manager at Chicago's Public Building Commission with ARCADIS U.S. In this role he oversaw a $2.4 billion capital construction program and led a large program management organization in the design and construction of municipal facilities for nine different city of Chicago client agencies.
As chief facilities executive with LAUSD from 2001 to 2006, Jim developed a capital program that delivered 130 new schools, and at $11.8 billion was the largest program for new schools in the nation.
A Pittsburgh-area native, Jim is a retired U.S. Navy Captain and earned a Bachelor of Science in general engineering from the U.S. Naval Academy and a Master of Science in civil engineering from the University of Pittsburgh.