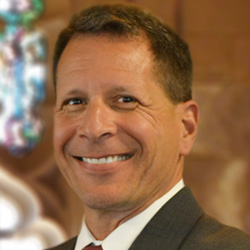 John D'Angelo
Assistant VP, Facilities Operations
University of Chicago
John D'Angelo (MS, PE, CHFM, CHEP, CMVP) is the Assistant Vice President of Facilities Operations at the University of Chicago. In this role, John leads a team of 215 skilled trades professionals and an additional 230 full-time contractor staff that manage all facilities operations, maintenance, custodial, specialty trades, energy conservation, and utilities management on campus and in off-campus non-dormitory residences that includes 197 buildings at 18.8 million gross square feet. 
During his tenure, the team has won the APPA Award for Excellence, the Rex Dillow Award, and two consecutive EPA ENERGY STAR Partner of the Year awards, as well as many ASHRAE and community-based awards. Additionally, the University has successfully transitioned to a risk-based resourcing model for the built environment, implemented formalized staffing models and career pathways, and created a skilled trades pre-apprenticeship program.
Prior to the University of Chicago, John was Vice President of Facilities at Northwestern University where he was responsible for leading a 370-person team in delivering all facilities services for multiple campuses comprising 16 million square feet with a plant replacement value of over $8 billion. Under John's leadership, the team executed over eighty thousand service requests per year and delivered 240 major capital projects valued at $2.4B in less than four years.
Prior to Northwestern University, John was Vice President of Engineering and Facilities Operations at NewYork-Presbyterian Hospital with responsibility over seven hospital campuses in and around Manhattan. He has also served as Senior Director of Facilities for the Cleveland Clinic where he led facilities operations and management across the 24-million-square-foot health system. Prior to that, he held various facilities leadership positions within the U.S. Navy, and was named Pacific Engineer of the Year by the United States Department of Defense.  
John received his undergraduate degree in Aeronautical Engineering from Purdue University and his master's degree in Civil Engineering from the University of Maryland. He is a licensed Professional Engineer in multiple states.
John has published multiple articles on facilities management and routinely consults on that topic for multiple higher education and healthcare institutions. He has been a founding President for three separate not-for-profit technical societies. He holds a patent for surgical suite lighting and has been selected to develop national codes and standards in the areas of Legionellosis prevention, lighting, air quality, energy conservation, and sustainability. John was one of the authors for New York City's Resiliency Codes following the devastation of Hurricane Sandy.