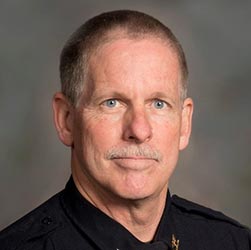 Kevin Foust
Chief of Police and Director of Security
Virginia Tech
PREVIOUS SPEAKER PAGE
Kevin Foust was a featured speaker at HEFF 2019. Read a summary of his talk
here
.
In August 2014, Kevin Foust was named chief of police and director of security at Virginia Tech, a position he held on an interim basis since February.
Foust joined the Virginia Tech Police Department in 2011 as the deputy chief of police and assistant director of security after a 24-year career with the FBI.
As deputy chief and assistant director of security, Foust managed security operations for the university's facilities across Virginia and overseas. In addition, he led the police department's administrative division, which included communications, community outreach, security, and the Safe Ride program.
Foust began his career at the FBI in 1987. He served in several capacities including unit chief of the Usama Bin Laden Unit in the Counter-terrorism Division. He was the supervisory senior resident agent for Southwest Virginia prior to joining the university.