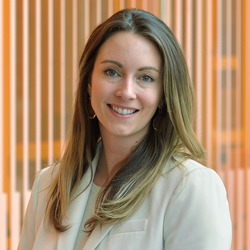 Leandra Davis
Executive Director, Planning, Design & Construction
Caltech
Leandra Davis is the Executive Director of Planning, Design and Construction at the California Institute of Technology. She recently joined Caltech after 16 years at the University of Pennsylvania, School of Engineering.
Leandra is responsible for the overall leadership, direction, and coordination of the facilities team, which provides planning, design, engineering, and construction services to Caltech. Leandra's team is currently designing or building two new buildings, Resnick Sustainability Center and the Ginsburg Center for Quantum Precision Measurement (GCQPM), and is managing 60+ laboratory and building renovations. Caltech's campus has 200 buildings totaling 4.5M gross square feet across 130 acres.
In her time at Penn, Leandra led master planning and strategic planning initiatives, five-year capital budgeting, and new construction projects as well as advising senior leadership on space allocation and collaborating on sustainability initiatives across the university. Leandra received three Penn Models of Excellence Awards, was recently a Trustee on the Board of the Corinthian Yacht Club of Philadelphia as well as Co-Chair to the House and Grounds Committee and Chair of the Diversity, Equity and Inclusion Committee, and has served on the Bryn Mawr Presbyterian Church Property Committee.
Leandra has a MS in Organizational Dynamics, Leading and Managing Through Change from Penn, an Executive Certificate in Business from Wharton, BS from Drexel in Interiors, and is a LEED Accredited Professional.