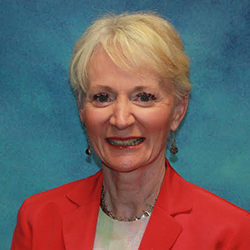 Lee Kernek
Associate Vice President for Administration & Finance
University of Central Florida
Previous Speaker Page
Lee Kernek was a featured speaker at HEFF 2018.  
Lee Kernek is the Associate Vice President for Administration and Finance (Facilities and Safety) for the University of Central Florida (UCF), where she has management responsibility for Facilities Planning and Construction, Downtown Campus Facilities, Facilities Operations, Sustainability Initiatives, Utilities and Energy Services, Landscape and Natural Resources, Environmental Health and Safety, Resource Management, and Quality Management and Improvement.Ms. Kernek serves on several committees for the state and holds leadership positions on the state's domestic security teams.
Prior to Ms. Kernek's role at UCF, she served more than 20 years in government and public service, holding executive positions in the Department of Defense, with various private sector firms in the defense industry, and in the not-for-profit sector. Career highlights include performing counter-narcotics for President George Bush; leading International Cooperative Programs, Foreign Military Sales, International Logistics, Security Assistance, International Air and Trade Shows, and Arms Export Control for the Department of the Army; and overseeing Facilities and Safety for one of the largest universities in the nation.
Ms. Kernek earned a Bachelor of Music degree, with Honors and High Distinction, from the University of Iowa and a Master's Degree in Public Administration from Harvard University.