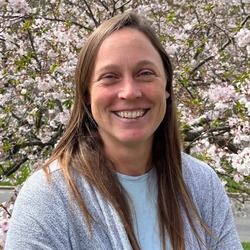 Lisa James
AVP, Facilities Management
Cornell
Lisa James, who has played a pivotal role in facilities management at Cornell University for more than a decade, begins her second year as the Associate Vice President of Facilities Management in 2023-24. As the AVP for FM, Lisa leads a team of more than 850, including 285 skilled trades and maintenance workers, that provide preventive and corrective maintenance for Cornell's Ithaca campus facilities and grounds. Her portfolio includes stewardship, maintenance, landscaping, and custodial care for 260 major buildings totaling 16.9 million gross square feet over nearly 400 acres.
She previously spent nearly five years as the Director of Facilities for Student and Campus Life, helping shape and deliver the North Campus Residential Expansion project. The $323 million effort included 2,000 beds, a dining unit and cafe, and additional recreation spaces, while reducing energy use through renewable sources. She was responsible for a more than 30-person team that managed over 5 million gross square feet and helped to establish a long-range housing renewal plan. During her time with Student and Campus Life, Lisa played a key role in shifting the team culture and establishing positive campus partnerships.
Lisa joined the Cornell facilities team as an Assistant Director in 2011 with oversight of Athletics & Physical Education, Greek, Co-Op Housing, Dean of Students, Community Centers, and Health Service Facilities. She has served as an executive member of the President's Sustainable Campus Committee and the Student and Academic Services Diversity Council.
Prior to Cornell, Lisa began her career working in commercial construction management for Bovis Lend Lease and then LeChase Construction. She served as part of the construction management team for Binghamton University's $200 million Eastern Campus Housing Project that included several new dormitories, a community center and dining hall, and led efforts in LEED certification for the project. During that period, she also served as an adjunct professor for adult learning at Onondaga Community College, teaching "Intro to LEED: Green Contractor Training."
A graduate of Alfred State with a degree in Architectural Engineering Technology, Lisa was also a varsity student-athlete that competed in softball and soccer.