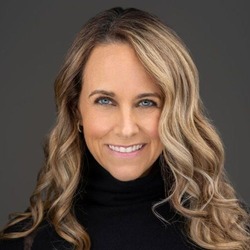 Lori Mazor
Founder & CEO
Synthetivity
Lori Pavese Mazor is the CEO and Founder of Synthetivity, a consulting firm specializing in strategic operations, futures thinking, and emerging technology. She brings with her more than 20 years of experience in architecture, planning, and operations management at some of New York City's leading institutions, including New York University, the City University of New York, the Brooklyn Public Library System, New York Presbyterian Hospital, Educational Housing Services, and the YMCA. She has served on the Board of Directors for Enstoa, a construction technology company, and as advisor to Salute Safety, a cloud-based EHS risk management platform.
She is known for her innovative approaches to optimizing operations and building community. As Vice President for Administration at CUNY Hunter College, she collected insights through community-driven campus planning games, developed novel approaches to classroom scheduling using access data and artificial intelligence, and built rich online communities through Web 2.0, virtual conferencing, live streaming, and online education. At NYU she was chief architect and visionary of NYU2031, a 25-year growth plan which charted new territory in its real-time civic engagement.
She holds a Master of Architecture from Yale University, an MBA from NYU Stern School of Business, a BA from Wellesley College, and is a candidate in Wharton's Business Economy of the Metaverse. She regularly guest lectures on design, construction management, game theory, and operations. Her creative work has been published in the New York Times, Inside Higher Education, Crain's New York Business, and the Wall Street Journal. The American Institute of Architects presented her with the AIA Award for Design Excellence, and Crain's New York Business named her one of its 40 Under 40 rising stars.