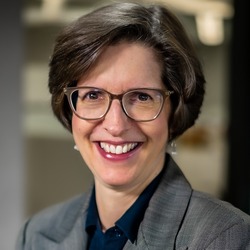 Margaret Tennessen
Deputy Chief Facilities Officer
UW-Madison
As Deputy Associate Vice Chancellor for the Division of Facilities Planning & Management (FP&M) at the University of Wisconsin-Madison, Margaret shares in the leadership and direction of a full spectrum facilities management organization that includes campus planning and design, capital project delivery, environment health and safety, physical plant operations, utility plant management and distribution, space management, sustainability programs, real estate development, and transportation services for a 938-acre public research university with more than 400 buildings.
In collaboration with UW-Madison's Chief Facilities Officer, Margaret provides leadership and strategic vision for the largest non-academic unit of the university with more than 1,200 employees and an annual operating budget of $300 million. Prior to joining FP&M, Margaret was Director of Administration for UW-Madison's college union, where she led budget development and financial reporting, human resources, information technology, marketing and external relations, and the campus debit card program.
Margaret is a member of the Board of Directors for APPA—Leadership in Educational Facilities and currently serves as Vice Chair for the Association.