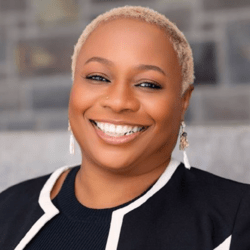 Mary-Ann Ibeziako
AVP, Infrastructure & Chief Sustainability Officer
Virginia Tech
Mary-Ann Ibeziako is the Assistant Vice President for Infrastructure and Chief Sustainability Officer for the Division of Campus Planning, Infrastructure, and Facilities at Virginia Tech.
Her primary objective is to provide holistic energy and sustainable solutions as well as data-enabled maintenance tools that enhance the operations at the Virginia Tech campus in collaboration with the various research centers, students and various facilities management experts.
She also works closely with the town of Blacksburg, VA (home to Virginia Tech) to leverage the over 100 years of relationship they have with the Virginia Tech Electric Services (VTES) in engaging in projects and initiatives that promote economic development as as well enhance the school's standing as a smart and connected campus and community.
Mary-Ann holds an MBA in Strategic Management from Case Western Reserve University, a BS/MS in Mechanical Engineering (Heat and Mass Transfer) from Cleveland State University, and expects to complete her PhD in Mechanical Engineering from University of Maryland, College Park this year. 
Born in the Niger Deltas of Nigeria, a petroleum-rich region no stranger to the inefficiencies of fossil fuel extraction, Mary-Ann feels that working on ways to solve issues in sustainability has always been in her DNA. Her role with Virginia Tech allows her to do what she loves while making a difference in the world.