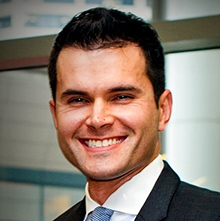 Matt Berbee
Director, Maintenance Management & Energy Services
Caltech
Matt Berbée was a featured speaker at HEFF 2017. To watch Matt's session visit here.
—————
Matthew Berbée serves as the Director of Maintenance Management and Energy Services at the California Institute of Technology. He manages the campus preventative and demand maintenance programs, the Institute's integrated workplace management system, the facilities service center and campus operations. His accomplishments include the design and implementation of the Caltech Energy Conservation Investment Program (CECIP), a $30 million dollar green revolving loan fund that has reduced Institute Utility expenses by over $10 million dollars since program inception in 2009. During his tenure at Caltech Matthew served as the program manager for a multi-year, multi-million dollar Integrated Workplace Management System implementation that transformed the Facilities service delivery model brining technology over 100 business processes and innovation to the Facilities organization. Prior to joining Caltech, Matthew worked as the Energy Manager for the NASA Jet Propulsion Laboratory.
Matthew is a Certified Energy Manager with an extensive background in building automation controls. He holds a Master's Degree in Business Administration from Pepperdine University and a Bachelor's of Science in Mechanical Engineering from California State Polytechnic University Pomona. Matthew is also a member of the California Commissioning Collaborative Advisory Council where he is pioneering innovation in Commissioning Practices with a focus on system integration, analytics and automation.