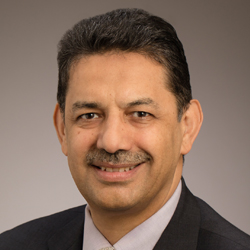 Dr. Mohamed Attalla
Executive Director, Facilities & Services
University of Illinois at Urbana-Champaign
Dr. Mohamed Attalla is executive director of Facilities & Services at the University of Illinois at Urbana-Champaign. He oversees the largest central unit with over 1,200 professionals who are performing different functions including, but not limited to, Design, Construction, Capital Planning, Space Management, Sustainability, Energy Management, Maintenance, Cleaning Services, Transportation, Central Stores, Health and Safety, Environmental Compliance, Waste Management, Financial Management, Human Resources, Information Technology, and Communication and Customer Relations. The Urbana campus includes more than 600 buildings that occupy about 25M gross square feet (GSF) and about 5,000 acres of land. Since starting on August 16, 2018, Attalla has led the unit toward more customer-focused opportunities and academic collaborations, including the creation of a new strategic plan.
Attalla has served in construction and facilities roles for 33 years, including seven years at McMaster University in Canada and 18 years in various facilities and construction administrative positions for the Toronto District School Board. He also served as an adjunct engineering professor at McMaster University, Ryerson University, and the University of Waterloo, giving him an additional platform for relating with faculty members, researchers, and students.
"Dr. Attalla arrives on our campus with comprehensive experience at a world-class research institution and a proven record of leadership of all facets of facilities and services operations," said Chancellor Robert Jones upon Attalla's hiring. "He is a skilled strategic planner and a team builder who understands how to prioritize and advance both the qualities of employee morale and customer satisfaction."
Attalla earned a master's degree and a Ph.D. in construction engineering and management from the University of Waterloo in Canada, subsequent to a bachelor's degree in civil engineering from Ain Shams University in Egypt. While at McMaster, he completed the Executive Master of Business Administration and the Advanced Executive Management programs.