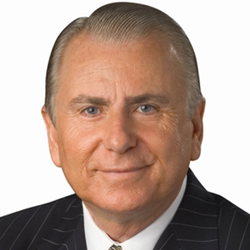 Nido Qubein
President
High Point University
PREVIOUS SPEAKER PAGE
Nido Qubein was a featured speaker at HEFF 2019.
Dr. Nido Qubein has served as president of High Point University since 2005. An accomplished business leader and dedicated philanthropist, he has led the university through an extraordinary transformation including major increases in traditional undergraduate enrollment (from 1,450 to 4,500 students), the number of faculty (from 108 to 300), and the addition of 90 new and acquired buildings on campus, with a total investment of $1.6 billion. Under his leadership, four academic schools have been added – the Nido R. Qubein School of Communication, the Congdon School of Health Sciences, the School of Art and Design, and the Fred Wilson School of Pharmacy. New programs in entrepreneurship, interactive gaming, and commerce were added along with new initiatives in physician assistant, pharmacy, and physical therapy. The university, during his tenure, moved to a doctoral degree-granting institution and added masters and doctoral programs, invested heavily in state-of-the-art technology and resourced academic programs with personnel, facilities, equipment, and budgets.
President Qubein is a successful, sought-after speaker who has delivered more than 6,000 presentations across the U.S. and beyond to corporations, associations, and non-profit organizations. But as someone who came from humble beginnings, he lives by the saying,  "To whom much is given, much is required." He teaches this principle to students through his Freshman and Senior Seminars, and he works tirelessly to ensure that holistic learning and a values-based education remain the cultural focus of High Point.