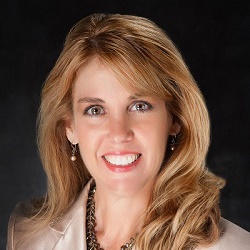 Nina Petty
Vice Chancellor, Real Estate & Facilities
Tarrant County College
Previous Speaker Page
Nina Petty was a featured speaker at HEFF 2018. You can read a summary and watch a video of her talk here.
Veteran real estate executive Nina Petty was named Vice Chancellor for Real Estate and Facilities for the Tarrant County College District in 2010. Tarrant County College maintains 6 campuses, 106 buildings, 817 acres and 3.5 million square feet. Tarrant County College currently touches the lives of more than 100,000 credit and non-credit students allowing them the opportunity to improve not only their life, but their family's lives.
During her 25-year career, Ms. Petty has held senior positions at CB Richard Ellis, RadioShack Corporation and Innovative Developers, Inc. During her tenure at RadioShack, she was the executive in charge of the company's successful efforts to self-develop the construction of a million square foot new campus on 35 acres in downtown Fort Worth, which is now the Tarrant County College Trinity River Campus. Petty's civic involvement includes past Chair of The Greater Fort Worth Real Estate Council, on the Board of Directors of the Tax Incremental Finance District, on the Board of the Downtown Design and Review Board, and on the Downtown Fort Worth, Inc. Board and Executive Committee.
Nina has also been featured in the Higher Ed Leadership Series. Click here to learn more.