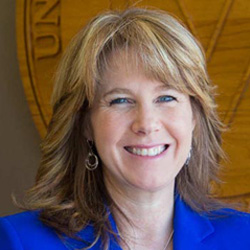 Paige Smith
Vice Chancellor for Administrative Services
UW-Platteville
Paige Smith is the Vice Chancellor for Administrative Services for the University of Wisconsin-Platteville. In this role, she is responsible for overseeing the Office of Human Resources, Ethics and Compliance, Safety and Risk Management, University Police Services, Facilities Management, Campus Planning & Projects, Financial Services, Project Management Center of Excellence, and Auxiliary Services. She also led the institution's development and implementation of its most recent 2019-24 Strategic Plan.
Paige also serves as the institution's legal liaison with the UW System's Office of General Counsel in regard to all legal issues, contracts, employment disputes, internal or administrative claims or civil cases. Prior to this work, Paige served as Chief of Institutional Policy & Compliance for the University of Wisconsin-Whitewater. She also taught a graduate course titled "Legal Issues in Higher Education" at UW-Whitewater. Prior to these roles, she served as in-house legal counsel for the University of Wisconsin System as well as Southern Illinois University.
Paige grew up in southern Illinois. She has three daughters in college and a friendly black lab as a pet. She currently lives in Madison, Wisconsin.