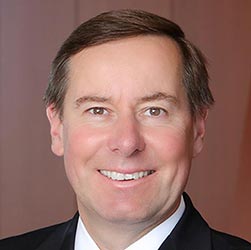 Patrick Burke
Assistant Vice President, Capital Project Management
Columbia University
PREVIOUS SPEAKER PAGE
Patrick Burke was a featured speaker at HEFF 2019. 
A leader in the design and construction industry, Patrick Burke III, FAIA, has spent decades overseeing the development of capital projects for large-scale, technically complex biomedical research facilities and health care buildings.
At Columbia University Irving Medical Center, Patrick leads Capital Project Management, successfully delivering over 2,000 projects with gross project budgets totaling more than $900 million. He was also central to the development of CUIMC's strategic capital plan, working with senior administrators to align programmatic needs with available real estate, devise creative solutions, and prioritize projects. He previously practiced architecture for several firms and completed building and planning projects for pharmaceutical companies, universities, and for-profit companies.
Patrick's career reflects a passion for using architecture to advance clinical care, research, education, and strategic institutional initiatives. He is a fellow of the American Institute of Architects and a registered architect in New York. He holds a master of architecture from Princeton University and a bachelor of arts from Columbia University.