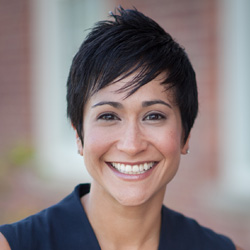 Rachel Gutter
President
International WELL Building Institute (IWBI)
PREVIOUS SPEAKER PAGE
Rachel Gutter was a featured speaker at HEFF 2019. 
Rachel Gutter is President of the International WELL Building Institute (IWBI), a public benefit corporation with a mission to improve human health and well-being through the built environment.
Rachel came to IWBI after nearly a decade at the U.S. Green Building Council, where she served as Senior Vice President of Knowledge and was Founding Director of the Center for Green Schools. Under her direction, the Center mobilized $275B+ investments in LEED certified educational facilities, deployed over 750,000 volunteers in 73 countries to transform schools on every continent, and published 1,000+ pages of technical guides and original research. At USGBC, her dynamic leadership helped convene international corporations, globally recognized institutions, and government entities to achieve putting every student in a green school within this generation.
Beginning in 2016 as IWBI's Chief Product Officer, Rachel expanded the WELL Standard to address all building types, as well as whole districts and communities. She led the effort to bring a new version of the WELL Building Standard to market in 2018 and shaped IWBI's research and education platforms to accelerate market transformation.
A widely sought-after expert and inspiring speaker, Rachel's game-changing contributions to green building have been featured in The New York Times, The Washington Post, NPR, Parenting Magazine, FOX News, and CNN, as well as in leading industry publications including Metropolis, Grist, and GreenBIZ. Rachel has also guest-edited Green Building & Design magazine.
Rachel received the 2012 World Green Building Council's Chairman's Award and was honored by Martha Stewart's Whole Living Magazine as an eco-heroine in 2011. Rachel is Co-chair of the Garrison Institute's Board of Directors and serves on the Advisory Board of Paul Hawken's Drawdown Project to reverse global warming.
Rachel is a frequent guest lecturer and instructor at the Harvard School of Public Health's Center for Health and the Global Environment and has lectured at Harvard University Kennedy School of Government, the University of Connecticut School of Business, and Tufts University.