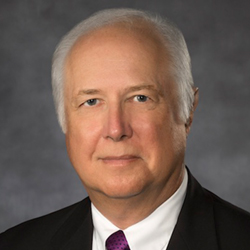 Rich Sliwoski
Associate Vice President, Facilities Management
Virginia CommonWealth University
PREVIOUS SPEAKER PAGE
Rich Sliwoski was a featured speaker at HEFF 2019.
A former director of the Virginia Department of General Services, Richard Sliwoski has been serving as the associate vice president of the Facilities Management Division at Virginia Commonwealth University since the beginning of 2017. He oversees one of VCU's largest departments, which is responsible for the university's facilities planning, design, construction, and maintenance.
Rich joined VCU after retiring in October 2015 from DGS, where he served nearly 16 years with the department — 10 of those as director and six leading the Division of Engineering and Buildings. Previously, he served 22 years in the U.S. Army Corps of Engineers, including a command as the district engineer of the Philadelphia District, U.S. Army Corps of Engineers.
He holds a bachelor's and master's degrees in civil engineering from Worcester Polytechnic Institute, Worcester, Massachusetts; a master's in international relations from Salve Regina College, Newport, Rhode Island; a master's in national security and strategic studies, Naval War College, Newport, Rhode Island; and an MBA in finance from Xavier University, Cincinnati, Ohio.