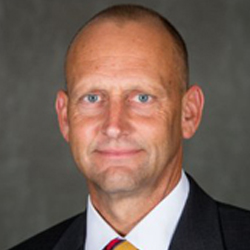 Robin Morey
Vice President for Planning & Facilities Management
Georgetown University
Previous Speaker Page
Robin Morey was a featured speaker at HEFF 2018.
In January 2013 Robin assumed the role of leadership and management of Georgetown University's facility operations. In this role, he guides the short and long planning and land use and real estate strategies for the University.  Robin also provides day to day leadership regarding the operations for the University's facility management and transportation services, construction, maintenance, central steam & chilled water generation and distribution, and sustainability initiatives. He leads a staff of 450 personnel providing labor, craft trades, and professional services for over 6,000,000 square feet for numerous university and community stakeholders.
Prior to being appointed Vice President of Planning and Facilities Management for Georgetown University, Robin served the United States Senate where he was Superintendent of the Senate Office Buildings in Washington DC. In this role, Robin was charged with leading 500 personnel providing labor, craft trades and professional services responsible for the day-to-day structural, mechanical and domestic care of the Senate Office Buildings consisting of 2.5 million square feet of office and meeting space. 
Previously, from 1989 to 2002 Robin provided leadership and management for the operations two district heating/cooling plants for the Architect of the Capitol and the Department of the Navy. He was responsible for providing steam, chilled water, electrical cogeneration, and numerous other utility services. He also performed critical facility engineering designs and oversaw the corresponding construction for numerous projects for the Department of the Navy.
Robin served as a commissioned officer in the District of Columbia Air National Guard for 23 years and was a Distinguished Graduate of the Academy of Military Sciences. Lieutenant Colonel (Ret) Morey served in numerous active duty tours. Robin has also served as an adjunct faculty member at the College of Southern Maryland teaching basic mathematics, college algebra, and trigonometry.
Robin holds a bachelor's of science degree in Mechanical Engineering from the University of Maryland, College Park. He is also a graduate the Squadron Officer's School, the Air Command and Staff College, Maxwell Air Force Base and the SAGE executive leadership course at Georgetown University. Robin is a Certified Facility Manager and is LEED Accredited.