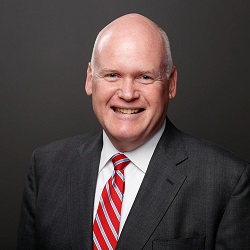 Tom Morrison
Vice President, Capital Planning & Facilities
Indiana University
Previous Speaker Page
Tom Morrison was a featured speaker at HEFF 2018
In 2009, Dr. Thomas A. Morrison was appointed Indiana University's first Vice President for Capital Planning and Facilities. Vice President Morrison serves as IU's chief capital, facilities, planning, and real estate officer and as liaison to State and Federal agencies for all capital related items.
Dr. Morrison is responsible for physical infrastructure and development on IU's seven campuses, encompassing over 800 buildings at a value of over $8 billion. To date, he has overseen over 160 new major capital and renovation projects – including those completed, currently under construction, and in planning – with total expenditures over $2.8 billion.
From 2008-2009, Morrison served as Associate Vice President for Public Affairs and State Relations. Prior to coming to Indiana University, Tom was Associate Vice President for Business Affairs at Ball State University, where he served for 17 years. Before that, Morrison was assistant director for intramural-recreational sports and facilities manager for intercollegiate athletics at the University of Virginia. Tom holds a doctorate in higher education administration from Ball State, a master's degree from the University of Maryland and a bachelor's degree from the University of Denver.