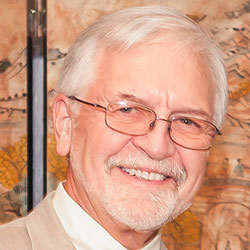 Wendell Brase
Associate Chancellor for Sustainability
UC Irvine
Previous Speaker Page
Wendell Brase was a featured speaker at HEFF 2018. You can read a summary and watch a video of his talk here.
Wendell Brase is the University of California, Irvine's first Associate Chancellor for Sustainability. In this role, he leads efforts by UC Irvine and assists other campuses throughout the UC system to implement UC's Carbon-Neutrality Initiative. Brase co-chairs the University of California's Global Climate Leadership Council and chairs UC's Energy Services Governing Board.
For 25 years, he provided leadership for an award-winning sustainability program in his role as Vice Chancellor for Administrative and Business Services. UC Irvine has received California's highest environmental award, the Governor's Environmental and Economic Leadership Award, in 2008 and again in 2013; has earned numerous accolades for sustainability, including a 2009 Environmental Protection Agency Environmental Leadership Achievement Award and their 2014 Climate Leadership Award; and has been on Sierra magazine's Top 10 list of greenest campuses for the past eight years, coming in at No. 1 in 2014 and again in 2015. The campus currently has 16 LEED Platinum and 10 LEED Gold buildings, among the most of any campus in the U.S.